Casper is the center for industry, media, commerce, and trade in Wyoming and regional hub of air, rail and highway transportation. Its central location among the western states assures Casper's continued industrial and metropolitan growth.
Road
Roadways
Highways accessible through Casper: 20/26, 254, 220 and 87
Interstate accessible through Casper: I-25
Motor Carriers
Over-the-road freight service is well provided for in Casper. Approximately 50 truck lines serve the area with many maintaining terminal facilities locally.
Local Carrier Services
Con-way Western Express, Midwest Motor Express, North Park Transportation, Patterson Nobles Motor Freight, and Rivers Three Inc.
Common Carriers
Action Cargo Express and Blue Streak Express
Additional Information
Wyoming Department of Transportation can provide detailed information on road construction projects, road closures, and other transportation data needs.
Wyoming Trucking Association is a member based organized devoted to the promotion of trucking and transportation issues in the state.
Wyoming Trucking Association
Sheila Foertsch, Managing Director
PO Box 1909
Casper, WY 82602
(307) 234-1579 phone
(307) 234-7082 fax
wytruck@aol.com
Public Transportation
The Bus:  local fixed route intra-city transportation
Rail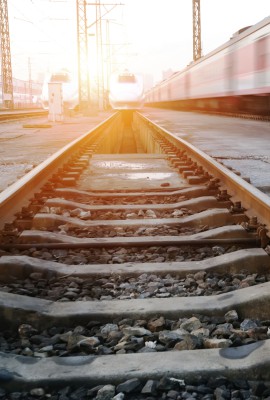 BNSF Railway Company
Burlington Northern Santa Fe (BNSF) Railway transfer yard. 

Routes to the west coast, the southwest, midwest and other points west of the Mississippi River. 

Freight services offered include agriculture, mineral, industrial and consumer goods. Freight forwarding and direct connections with dock spurs are available. 

Under construction is the CTran Industrial Rail Park, located northeast of the Casper/Natrona County International Airport. The 700 acre industrial rail park provides an 8,500 foot rail spur from the Burlington Northern Santa Fe Railroad. CTran operates the transloading facility and switch yard for businesses that need rail services to their front door or in the park. Access to the rail spur will be made available by way of Natrona County Road 6 West. For more information, please contact Bob West, Director of Real Estate, Granite Peak Development, (307) 472-7275 or bob@granitepeakdev.com.
Air
Airport Amenities
Casper/Natrona County International Airport (C/NCIA): the largest airport in Wyoming is located 7 miles northwest of Casper. Location identifier: CPR.
A full-time U.S. Customs Agent allows travelers to clear customs. Foreign Trade Zone No. 157 operates from C/NCIA.
Regional carriers offer business and leisure travelers 10 convenient daily departures with links to non-stop service. Carriers include: Delta Connection SkyWest, United Express SkyWest, and Allegiant Airlines.
Major rental car companies are located in the terminal along with a lounge and gift shop.
Served By: SkyWest Airlines, as both a Delta Connection carrier and a United Express carrier. The Delta Connection offers flights to Salt Lake City, and the United Express offers flights to Denver. Allegiant Airlines  provides one flight to Las Vegas every Friday and Monday.
Airport Specifications
Runway surface:  Grooved Asphalt
Lighting: High Intensity Runway Lights (HIRL), a 4-light Visual Approach Slope Indicator (VASI), Runway End Identifier Lights (REIL) and a Medium Approach Lighting System with Runway Alignment Indicator Lights (MALSR) with glide slope and localizer.
Repair: Major
Fuel Storage: Stored in 8 airport owned and operated above ground storage tanks. These tanks consist of (4) 30,000-gallon Jet A, (2) 12,000-gallon LL, (1) 12,000-gallon unleaded, and (1) 10,000-gallon diesel.
Primary and Crosswind Runway Lengths: 10,165 feet and 8,679 feet
Public & Private Aircraft Services
Cargo Aircraft Operations: Cargo aircraft operations at the airport are conducted by FedEx, utilizing Boeing 757 series aircraft to/from its primary sorting facility in Memphis, TN. There are also an additional 7 Cessna Caravans operating on feeder routes with destinations to Cody, WY; Scottsbluff, NE; Hayden, CO; Gillette, WY; Jackson, WY; and Rock Springs, WY. Both United Parcel Service (UPS) and Airborne Express utilize a contract carrier, operating Fairchild Metroliner III aircraft to transport cargo to/from Denver, CO for transport to their primary sorting facilities in Louisville, KY and Wilmington, OH, respectively.
Business Charter Jet Operations: Cessna Citation III, Dassault Falcon 20 and 50, Canadair Challenger, Raytheon Hawker 800 and 1000, Gulfstream G-III, Gulfstream G-IV, Gulfstream G-V and P-12.
General Aviation Services: 1 full service FBO, Atlantic Aviation located on airport property. Crosswind Aviation, M&N Aviation and Natrona Avionics provide additional aeronautical services at the Airport.
Atlantic Aviation is a certified FAA repair station providing overhauling for aircraft as well as fueling and maintenance service.